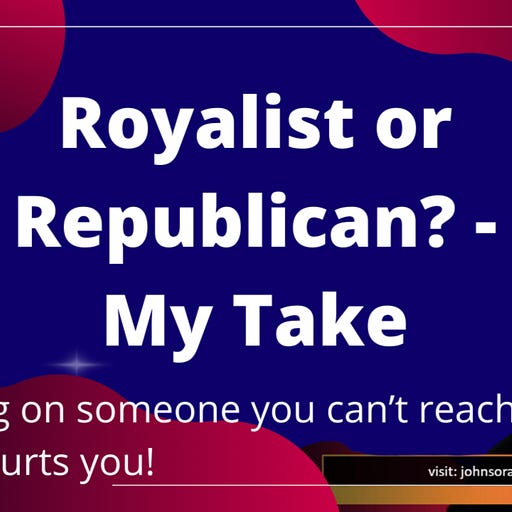 Sep 22, 2022 • 8M
Royalist or Republican?
An Intuitive, Mystic, and Blogger. John is an avid spiritual seeker and has been researching spiritual, metaphysical, and related topics for much of his adult life. "My personal study over the years led to my adopting a mainly spiritual philosophy. My philosophy is that it is up to all to decide for themselves who they are. We all feel our way through life as best we can, learning and growing as we go. But we live in a world where we get bombarded with perspectives, teachings, and points of view. What to believe? Who to listen to? And all that time your answers lie within, not without."
It needs to be said first of all that I've always been at least in principle a republican. That doesn't mean that I have anything personal against the Royal family. I don't. It just means I don't think that a Royal family in principle is necessary or should be necessary in the 21st-century world.
However, I'm also not supportive of those who chose to use such a difficult time for many in this country and around the commonwealth and indeed the world, in order to troll their disparaging commentary on the Royals all over social media. It's akin to telling someone who just lost a family member how much you hated them. To do such a thing is beyond reprehensible.
Continuing the negative and disrespectful rhetoric around the Royals isn't going to make them go away. It doesn't matter whether you are hating on a specific one or all of them in general.
Hating them all over social media is like throwing stones, but always missing your target. The people you hurt aren't those who you think you are aiming at. 
This is The Vodcast of Laird John: Visit johnsoracle.com/podcast
Blog: johnsoracle.com/blog
Please help support future content on this channel. PayPal: jmcv.uk/donate